Forward Securities Ltd is an independent security company based in Southampton. We have been established since 2002 and over the past years we have been at the forefront of changes and development in security installation. We offer full design, maintenance and servicing contracts for all our installations; including a technical help desk, full telephone support and 24 hour 365 day a year call out should any unexpected problems arise. Our aim is to provide a quality service to our customers using only the best equipment installed to the highest standard.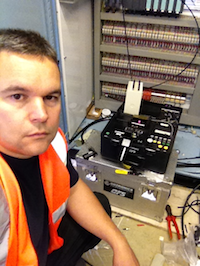 Forward Securities Ltd, (and the partnership company P&P Systems), was founded by Paul Hookings. Paul has a long (and very qualified) background in security engineering in the UK and the company works with large Blue-chip Companies such as Trant, BTU, Major utilities and container handlers.
We provide not only security systems second to none but data networks from Cat5e to Cat7 as well as fibre optic topologies.
The Company has a large customer base, both residential and commercial, many of whom have been loyal customers since the company first started out. We employ a dedicated team of staff, this includes engineers, apprentices and administration staff. In a rapidly changing industry we always make sure all our staff are fully trained to the latest standards and legislation
---